55e Internationale Hondsrug-Rally 2022
Vrijdag 24 juni 2022 – Maandag 27 juni 2022
Eindelijk is het weer zover dat ons treffen georganiseerd kan worden. Daarom wil Motorclub Martinistad jullie dit jaar uitnodigen voor het 55e Internationale Hondsrug-Rally treffen in Gasselternijveenschemond.
Motorrijders met of zonder duo en zijspanrijders met passagier(s) zijn van harte uitgenodigd! Vele motorvrienden uit Denemarken, Duitsland, België en natuurlijk ook uit Nederland treffen elkaar dit weekend. De ingrediënten van het weekend zijn o.a. livemuziek, een toertocht op zaterdag, prijsuitreiking, en uiteraard heel veel gezelligheid!
De Hondsrug-Rally valt altijd samen met the Grandprix Dutch TT in Assen. Vele bezoekers aan ons vriendelijk en gezellig treffen bezoeken ook de races..
Het treffen vindt plaats van vrijdag 24 juni t/m maandag 27 juni 2022 op motorcamping "De Motorschuur" in Gasselternijveenschemond (Zuidzijde 30, 9515 PJ). Deze camping is o.a. voorzien van een gezellig café, douches en er zijn kleine gerechten te bestellen. Ook kan men er barbequen, dit moet vooraf besteld worden. De Hondsrug-Rally kost EUR 20,- p.p. per nacht in een tent en is inclusief ontbijt, gratis gebruik van douches en koffie/thee.
Wil je meer informatie over ons treffen of onze club bezoek dan onze internetsite: http://www.mcmartinistad.nl, stuur een e.mail naar mcmartinistad@gmail.com , of kijk op onze of de Motorschuur hun Facebook pagina.
Voor meer informatie over de Motorschuur bezoek internetsite www.motorschuur.info.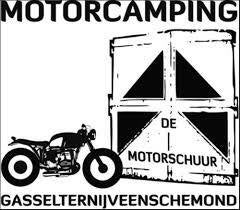 55e Internationale Hondsrug-Rally 2022
Fredag den 24. juni 2022 til og med mandag den 27. juni 2022
Endelig ser det ud til at vi kan holde vores træf igen. Derfor indbyder Motorclub Martinistad Jer hermed til det 55. Internationale Hondsrug-Rally som finder sted i Gasselternijveenschemond.
Indbydelsen gælder udelukkende seriøse motorcyklister med eller uden sidevogn samt passagerer. Også knallertkører er meget velkomne.
I denne weekend kan du møde motorcykelvenner fra Danmark, Tyskland og naturligvis også fra Holland. Programmet for weekenden indeholder bl.a. Livemusik, fællestur om lørdagen, prisuddeling og selvfølgelig en hel masse hygge!
Hondsrug-Rally 2022 afholdes samtidig med "Dutch Grand Prix TT" i Assen. Mange af vores træfgæster benytter denne lejlighed til også at besøge racerbanen.
Vores rare og hyggelige træf finder sted fredag den 24. juni til og med mandag den 27. juni 2022 på motorcykel campingpladsen "De Motorschuur" i Gasselternijveenschemond (Zuidzijde 30, 9515 PJ). Campingpladsen har en hyggelig bar, brusebad og der kan bestilles små retter fra køkkenet. Det er muligt at grille, menuen forud bestilles i baren. Hondsrug-Rallyet koster EUR 20,- pr. dag pr. person incl. morgenmad i eget telt, brusebad samt kaffe/thee.
Har ovenstående givet Jer lyst til at besøge vores træf og I vil vide mere kan I besøge vores hjemmeside www.mcmartinistad.nl eller I kan sende en e.mail til mcmartinistad@gmail.com eller besøg vores eller Motoschuurs Facebook side.
Ønsker I yderligere information om "De Motorschuur" kan I besøge hjemmeside:
55e Internationale Hondsrug-Rally 2022
Freitag, 24. Juni bis Monntag 27. Juni 2022
Der Motorclub Martinistad will Euch für dieses Jahr zur 55. Internationalen Hondsrug-Rally in Gasselternijveenschemond einladen. Die Einladung gilt nur für Motorradfahrer/innen mit oder ohne Begleitung und Seitengespannfahrer/innen mit oder ohne Passagiere.
Viele Motorradfreunde aus Dänemark, Deutschland, Belgien und natürlich auch aus Holland treffen sich an diesem Wochenende. Was erwartet euch? Zum Beispiel Live-Musik, am Samstag eine Tour, Preisverleihung, und selbstverständlich viel Gemütlichkeit!
Die Hondsrug-Rally fällt immer zusammen mit dem Grandprix Dutch II in Assen. Viele, die an unserem Treffen teilnehmen, besuchen auch diese Rennen.
Das Treffen findet statt von Freitag, den 24. Juni, bis Monntag, den 27. Juni 2022, und zwar auf dem Motorradcampingplatz "De Motorschuur" in Gasselternijveenschemond (Zuidzijde 30, 9515 PJ). Dieser Campingplatz hat u.a. ein Café, Dusche, es gibt kleine Gerichte zu bestellen und mann kann Grillen (voraus bestellen). Die Hondsrug-Rally kostet EUR 20,- pro Person pro Nacht (mit Telt), das ist incl. Frühstück, Dusche und Kaffee/Tee.
Wollt ihr mehr Informationen über unser Treffen oder über unseren Club, dann schaut auf unsere Internetseite: http://www.mcmartinistad.nl, schickt eine E-mail an mcmartinistad@gmail.com oder schaut unser Facebook seite.
Für mehr Informationen über "De Motorschuur", besuche www.motorschuur.info oder like der Facebook seite.
55th International Hondsrug-Rally 2022
Friday 24th June 2022 - Monday 27th July 2022
Finally it is possible to have a Rally again. Therefore Motorclub Martinistad invites you to the 55th International Hondsrug-Rally in Gasselternijveenschemond. Motorcyclists as well as sidecar drivers, with or without passengers, are welcome.
Many motor friends from Danmark, Germany, Belgium and of course from The Netherlands meet eachother in this weekend. The ingredients for this meeting are: live music, a small tour on Saturday, prices and of course a very good time!
The Hondsrug-Rally always takes place on the same date as the Grandprix Dutch TT in Assen. Many visitors of our friendly meeting also visit the races.
The 2022 meeting takes place from the 24th of June until the 27th of June at
motorcamping "De Motorschuur" in Gasselternijveenschemond (Zuidzijde 30, 9515 PJ).
The camping has a very nice bar, showers and a small kitchen. There is also the possibility to barbeque which you can order beforehand at the bar. The Hondsrug-Rally costs EUR 20,- p.p. per night (when sleeping in a tent) incl. breakfast, free use of the showers and coffee/tea.
If you want more information about the Hondsrug-Rally, take a look at our internet site www.mcmartinistad.nl , send an e-mail to mcmartinistad@gmail.com or take a look at our or Motorschuurs Facebook page:
For more information about "De Motorschuur" have a look at their internet site: www.motorschuur.info.
Maak jouw eigen website met

JouwWeb